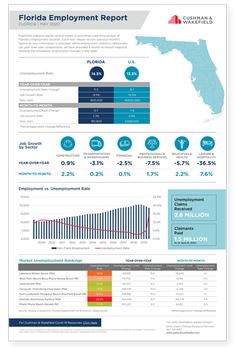 Traditional year-over-year comparison for job growth in Florida paint a bleak picture with the state losing over 850,000 jobs in the last 12-months.
On a month-to-month basis, job growth in Florida was positive in every major industry group. Payrolls increased by 182,000 jobs last month but the unemployment rate still increased 70 basis points to 14.5% based on revisions to previous month's job figures. Consensus among economists was that Florida's reported unemployment rate underrepresents the true number of people out of work.
In the last month, the largest driver for the improved job numbers was the gradual reopening of businesses throughout the state. Tourism-related economic activity picked up with more people eating out and hotel occupancies increasing. In June and July, theme parks were set to bring back guests on a limited basis.
One positive highlight was in Florida's construction industry which remains one of the state's major economic drivers. It was the only major industry sector to show year-over-year as well as month-over-month job growth.