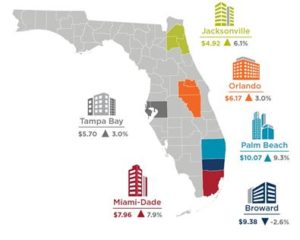 Shelter-in-place orders and business interruptions did not occur in Florida until the end of March.
As such, 1st quarter industrial rents do not reflect any real impacts from
COVID-19. While there has been significant rent growth pre-pandemic, most industrial rents in Florida lag historical highs based on a numerical or an inflation adjusted basis. Only Jacksonville surpassed both from the previous market cycle highs.
If market performance in past downturns are any indication, some industrial markets in Florida could potentially post rent increases for the next several quarters.