Solid Fundamentals Despite Slow Start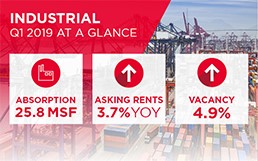 Supply Side Constraints: U.S. industrial markets absorbed 25.8 million square feet (msf) in the first quarter of 2019 and registered a healthy 113 msf of new leasing activity—a combination of both direct and sublet activity. Typical of the first three months of a year, seasonality played a role in the first quarter of 2019 with weather conditions delaying delivery of some projects and slowing development starts. This caused delays in tenants taking occupancy of leases inked in 2018 and early 2019 thus lowering quarterly net absorption.
Outlook
Despite the slow start to the year, net absorption is forecasted to surpass 240 msf in 2019 for a sixth consecutive year, with demand for all regions and all product types growing.
The greatest uptick in leasing activity will be in the 10,000-to-100,000-sf and the 300,000-to-500,000-sf segments. Leasing activity in the 100,000-to-300,000-sf range will strengthen from 2018 levels, while activity within the 500,000-sf-and-larger-size range is expected to be on par with 2018 levels.
Increased speculative supply will place upward pressure on vacancy. We forecast average annual vacancy to rise 30 to 40 bps to between 5.1% and 5.2%% by year-end 2019.
Rental rate appreciation will continue, although rent growth will slowly begin to decelerate. We expect year-over-year growth in asking rents of 4.8% in 2019 and 3.6% in 2020 for all types and classes of industrial product.